Austin Peterson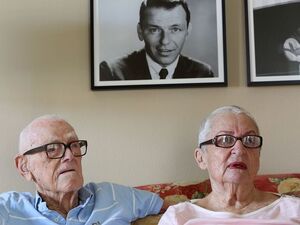 Austin Peterson (left) aged 107.
Centenarian
Harry Austin 'Pete' Peterson (10 July 1906 – 11 June 2015) was an American screenwriter, cartoonist, and radio program director who became noted for his longevity towards the end of his life. He lived to be 108 years, 336 days old.
Early life & professional career
Austin was born in Palo Alto, California, to parents Harry and Lillian Peterson. He graduated from San Mateo Junior College in 1927.
Soon afterwards, he began as a cartoonist (mostly sports-themed) for the local newspapers San Francisco Call, Oakland Post Enquirer and Los Angeles Herald. He was fired from the later one in November 1932 due to the Great Depression.
Around March 1933, he switched field and started working in the radio business. First, he was a writer and producer for the radio show Blue Monday Jamboree, aired on the radio station KFRC San Francisco.
Three years later, in 1936, he was a writer for Fred Astaire's radio show called The Packard Show.
In 1942, during World War 2, he became the radio program director of Armed Forces Radio (AFR). Through his position, he encountered various celebrities. In 1947, he was the vice president of Ted Bates Inc.
During his professional career, he also worked in television shows such as Colgate Comedy Hour.
Personal life
He was married twice; his first marriage, in 1934, was to Audrey Marks. The couple had twin boys. They later divorced, and sometime in the late 1950s, he remarried to Maxine. They remained together for the rest of Austin's life.
Later life
In the year 2000, he published his autobiography called Television is a young man's game? I'm 94. Why didn't somebody tell me?. When he was 107 years old, he credited his long life to favourable genetics on his mother's side. It was reported that he didn't take any medicines.
Austin Peterson passed away on 11 June 2015, one month shy of his 109th birthday. His final age was 108 years, 336 days.
References
Community content is available under
CC-BY-SA
unless otherwise noted.