Alimihan Seyiti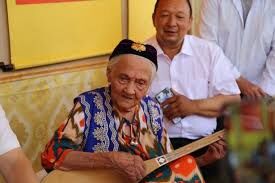 Alimihan Seyiti on her claimed 134th birthday.
Longevity myth
Alimihan Seyiti (born 25 June 1886?) is China's "oldest living claimant". Seyiti was of Uyghur ethnicity. She lived in the Chinese city of Kashgar, near the border with Kyrgyzstan.[1] On 15 August 2013, the Xinjiang Daily reported that she was born on 25 June 1886, which, if true, would make her the oldest person in recorded history.[2] Chinese birth records before and into the 20th century are generally unreliable, however, so substantiating her claim has been impossible.[1]
Longevity
Seyiti attributed longevity to dressing herself up. She said that she had never been to hospital. She still did chores like feeding chickens.[1]
Alimihan Seyiti celebrated her claimed 134th birthday on 25 June 2020[3]
See Also
References
Community content is available under
CC-BY-SA
unless otherwise noted.