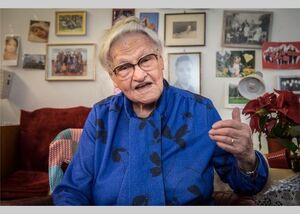 Alice Roffler-Waldmeier (14 April 1904 – 26 January 2015) was a Swiss supercentenarian whose age is currently unvalidated by the Gerontology Research Group (GRG). She was the oldest known person in Switzerland when she died.
Biography
Alice Waldmeier was born on 14 April 1904 in Walterswil, Solothurn, Switzerland. She married Heinrich Roffler in 1931 and they had one son together. They lived most of their life in Muttenz. Alice enjoyed to look for their garden. During 40 years she worked for a clothes company where she drove around with her bicycle to sell clothes. At the age of 99 she moved into a retirement home in Muttenz.
She became the oldest person in Switzerland upon the death of Hedwig Hosig-Huggler on 31 May 2014.
Alice Roffler-Waldmeier passed away on 26 January 2015 at the age of 110 years, 287 days in Muttenz, Basel-Landschaft, Switzerland. Her successor as Switzerland's oldest person was Nina Hofer-Lustenberger (1904–2015).
References
Community content is available under
CC-BY-SA
unless otherwise noted.