Alice King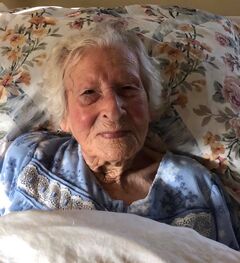 Unvalidated
Alice King (born 15 November 1909) is a British-born American supercentenarian whose age is currently unvalidated by the Gerontology Research Group (GRG).
Biography
Alice King was born in Leeds, West Yorkshire, England, United Kingdom, on 15 November 1909. In the 1950s, she moved to Norco, California, United States. She celebrated her 110th birthday in November 2019.
King currently lives in Norco, California, United States, at the age of 110 years, 347 days.
References
Community content is available under
CC-BY-SA
unless otherwise noted.