Alexina St-Pierre Loyer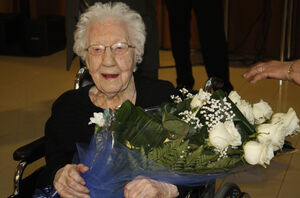 St-Pierre Loyer at the age of 109
Pending
Alexina St-Pierre Loyer (21 November 1907 – 22 May 2020) was a Canadian supercentenarian who, at the age of 112, is the oldest known victim of the COVID-19 pandemic as of September 2020. Her age is currently pending validation by the Gerontology Research Group (GRG).
Biography
Early Life
Alexina St-Pierre Loyer was born on 21 November 1907 in Rimouski, Quebec, Canada. She was born in to a farming family, and had 16 siblings, all of whom she outlived except for one brother, Raymond. She grew up near Bic National Park in Bas-Saint-Laurent, Quebec.
St-Pierre Loyer worked as a teacher for 41 years, firstly in Bas-Saint-Laurent before moving to Greater Montreal, Quebec in the 1940s. In 1949, she married Lucien Loyer. The couple had no children, and were married until Lucien's death in either 1999 or 2004 (sources differ).
Later Life
After her husband's death, St-Pierre Loyer moved to Pointe-aux-Trembles, Quebec to be near her sister, Berthille. She lived in a retirement home, and from 2010 onward she benefitted from a program that allowed her to live in her apartment rent-free. In November 2017, she celebrated her 110th birthday and received a certificate from the Prime Minister of Canada, Justin Trudeau.
St-Pierre Loyer died of complications associated with COVID-19 in Joliette, Quebec, Canada on 22 May 2020 at the age of 112 years, 183 days. She reportedly remained lucid until her final two weeks. At 112, she was one of the oldest known victims of the coronavirus pandemic.
Gallery
References
Community content is available under
CC-BY-SA
unless otherwise noted.