Agnes Kluckhenn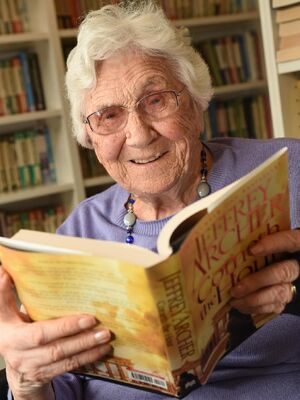 Agnes Kluckhenn at the age of 107
Unvalidated
Agnes Kluckhenn
(1 April 1909 - 24 November 2019) was a British-born Australian
supercentenarian
whose age is currently unvalidated by the
Gerontology Research Group
. She has been the oldest known living person in Australia since the death of
Wilhelmina Overall
on 21 October 2018.
Biography
Agnes Kluckhenn, affectinately knows as "Nessie" was born in Scotland, United Kingdom, on 1 April 1909. She emigrated to Australia two years after the end of World War II. Kluckhenn was married twice. She married Jimmy Hogarth in the 1930s. Jimmy died in 1975, and she married Carl Kluckhenn in 1978. Carl died in 2005. Agnes remained childless. She spent 20 years in Hampton, and another 28 years in Brighton. She currently lives in Brighton East, Victoria, Australia. Her sister, Williamina, lives a few doors down from her apartment.
Kluckhenn turned 110 in April 2019. 
Agnes Kluckhenn died on 24 November 2019 at the age of 110.
References