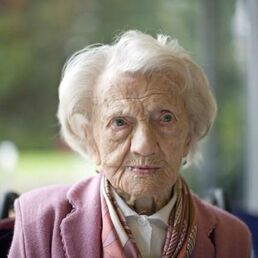 Adelheid Wehrle-Rieger (19 November 1899 – 28 May 2010) was a Swiss supercentenarian whose age is currently unvalidated by the Gerontology Research Group (GRG). She was the oldest known person in Switzerland when she died.
Biography
Adelheid Rieger was born on 19 November 1899 in Basel, Basel-Stadt, Switzerland. She spent her childhood in Lampenberg, Basel-Landschaft. She married August Wehrle in 1922 and they had 4 children together. Adelheid worked with silk.
She became the oldest person in Switzerland upon the death of Rosa Rein on 14 February 2010.
Adelheid Wehrle-Rieger passed away on 28 May 2010 at the age of 110 years, 190 days in a retirement home in Basel. Her successor as Switzerland's oldest person was Pierre Gremion (1902–2012).
Community content is available under
CC-BY-SA
unless otherwise noted.