Ada Winget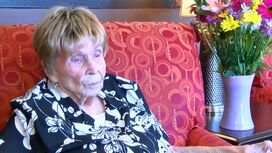 Unvalidated
Ada Winget (6 August 1906 - 26 January 2019) is an unvalidated American supercentenarian.
Biography
Ada Winget was born as Ada Lueva VanHooser on 6 August 1906, the middle of five children. Her birthplace was in Indian territory, a part of the country that didn't become the state of Oklahoma until 1907.
Her parents, Jasper VanHooser and Ola Oldham VanHooser, were farmers who moved to Oklahoma in the hope of joining the area's oil boom. But oil riches were not forthcoming, so the family moved to the San Joaquin Valley, near Corcoran, to return to the farming life. By the time she was 10, her mother and both older sisters had died of an unknown illness. When her father also died, Ada went to live in Visalia with her uncle and his wife. She lived with them until she graduated from high school, when she decided to move to San Francisco with a close friend.
Winget married her first husband, Willard Wright Gipson in 1925. They made their first home in Hermosa Beach, where her in-laws lived. Willard secured a job with Standard Oil in 1936 and they were transferred to Taft. The Great Depression was in full force during those years and Winget felt blessed that her husband had a secure job. After America entered the war, a bowling alley in Taft was repurposed as a factory to assemble engines for World War II-era bombers. Winget's daughter remembered her going off to work each day wearing bib overalls with her name sewed into it.
When the war ended in 1945, Winget's husband was transferred to Maracaibo, Venzuela. Most of the family lived there for three years. During Winget's stay, she came down with Dengue Fever, but she survived after weeks of severe symptoms.
Her husband Willard died of kidney failure in 1951. On Sept. 6, 1952, Winget went on an Alaskan cruise on the Princess Kathleen, a Canadian Pacific Lines ship. At 3:15 a.m., 18 miles from Juneau, the ship hit a rock. The passengers and crew were ordered to abandon ship. Winget and the other passengers were told to leave in their night clothes and only grab a coat or sweater before heading to a lifeboat. The townspeople graciously opened their homes and businesses to provide shelter to the stranded passengers.
Her ever lengthening life continued. Her happy but short-lived marriage to Albert Winget ended after about three years following Albert's untimely death from a heart attack in 1968. In 1969 Ada moved from Taft to Tulare to be near her daughter and son-in-law, Marilyn and Frank Hale. She eventually moved to Fresno and lived there for several years. A tour of Europe, a move to Eureka — where she stayed for about 20 years —  and a move back to Tulare where her brother's family lived. When it became clear that the memory and strength needed to care for herself was declining, she made a joint decision with her daughter to be placed at Golden Living Center (now San Joaquin Rehab) in Bakersfield.
She drove until she was 102 or 103, he said. She lived alone and did her own cooking and cleaning until age 105.
Winget celebrated her 110th birthday on 6 August 2016. At the time of her 110th birthday, she had two children, a granddaughter, two great-grandchildren and a great-great-grandchild.
Winget was a resident of Golden Living Center in east Bakersfield, California. She died in Bakersfield, California, USA, on 26 January 2019 at the age of 112.
References